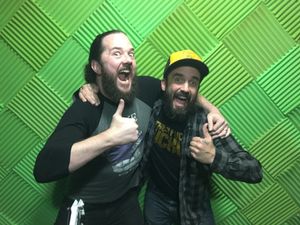 Greetings MFCKRS!                  
Welcome to Episode #071 of The MF Podcast!      
Spontaneous Sobriety: it's like spontaneous combustion with extra money and enhanced memory recall instead of fire.  
In this episode: 
► Our Guest this week: Professor of Metal studies, from Khemmis and Glacial Tomb, the wise and talented Ben Hucherson! 
► When Wooks get Woke. 
► Sociology, Sobriety and Social Media. 
► One for the homies tribute to Wake! 
Thanks so much for listening! Be sure to rate, review, subscribe! To learn more about other projects and to help us make cool stuff, please visit http://www.patreon.com/mfruckus.          
The MF Podcast is recorded at The Nug Nation studios, Denver CO - thenugnation.com 
Recording Engineer/Co-Producer: Gordon Leadfoot 
Editor/Co-Producer: Gene Skibbons 
Hosts: Aaron Howell, Tony Lee, Logan O'Connor and Ty Blosser 
This podcast is made possible thanks to the support of The Nug Nation, Evergroove Studio, RocketSpace, Flipside Music, Matula Plumbing, Mutiny Information Cafe and our badass Patrons. 
The MF Podcast is a Mutiny Transmission