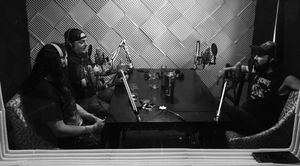 Greetings MFCKRS!                  
Welcome to Episode #070 of The MF Podcast!      
Dose the water! Dose the water! 
In this episode: 
► Our Guest this week: The hardest working man in Thrash Metal and all around swell guy, David Sanchez of Havok! 
► First rung on a new ladder: it's a long way to the top!  
► If everyone just did mushrooms... 
► One for the homies tribute to Psychosomatic!  
Thanks so much for listening! Be sure to rate, review, subscribe! To learn more about other projects and to help us make cool stuff, please visit http://www.patreon.com/mfruckus.          
The MF Podcast is recorded at The Nug Nation studios, Denver CO - thenugnation.com 
Recording Engineer/Co-Producer: Gordon Leadfoot 
Editor/Co-Producer: Gene Skibbons 
Hosts: Aaron Howell, Tony Lee, Logan O'Connor and Ty Blosser 
This podcast is made possible thanks to the support of The Nug Nation, Evergroove Studio, RocketSpace, Flipside Music, Matula Plumbing, Mutiny Information Cafe and our badass Patrons. 
The MF Podcast is a Mutiny Transmission