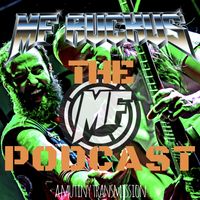 HeyMFCKRS!
Welcome to Episode #015 of the Motherfucking Podcast!
We're comin' at ya from The Nug Nation studios in Denver, CO. If you like stop motion animation and weed, check out The Nug Nation at TheNugNation.Com.
In this episode:
Recap of the Denver Joe Memorial celebration at 3 Kings Tavern.
Tony and Laura's first Itchy-O show.
To wear or not to wear your own band merch? 
Info on upcoming shows including our big Punk is Dad show at The Oriental Theater.
Double for the homies this week as we feature The Velveteers and Ned Garthe Explosion.
Shoutout to our friends Joey and Tessa with much love and hopes that their son Scotty makes it home safe and sound.
Commentary on "WTHQ" to coincide with our recent MF Monday video release.
And tons more!
If ya like the show, please tell a friend. It'd just make our world go round.
If you REALLY like what you hear, you'll LOVE our YouTube Channel YouTube.com/mfruckustv. 
If you REALLY, REALLY like what you hear, then become a Patron at Patreon.com/mfruckus.
Thanks for listening!