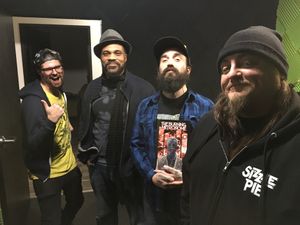 Greetings MFCKRS!                  
Welcome to Episode #083 of The MF Podcast!      
Rad Dad is actually short for RADICALIZED DAD. Not so cute now, is it? 
In this episode: 
Our Guests this week: creator of The Burning Metronome graphic novel series, host of the Motherf****r in a Cape Podcast AND professor of Comic Books at Regis University (yeah. That's a thing) please welcome, R. Alan Brooks. PLUS - Special guest, creator of This is Heavy Metal and illustrator for The Front Lines of Good Times as well as Frontman for Hail Satan, please welcome Jake Fairly back to the show! 
Thanks so much for listening! Be sure to rate, review, subscribe! To learn more about other projects and to help us make cool stuff, please visit http://www.patreon.com/mfruckus.          
The MF Podcast is recorded at The Nug Nation studios, Denver CO - thenugnation.com 
Recording Engineer/Co-Producer: Gordon Leadfoot 
Editor/Co-Producer: Gene Skibbons 
Hosts: Aaron Howell, Tony Lee, Logan O'Connor and Ty Blosser 
This podcast is made possible thanks to the support of The Nug Nation, Evergroove Studio, RocketSpace, Flipside Music, Matula Plumbing, Mutiny Information Cafe and our badass Patrons. 
The MF Podcast is a Mutiny Transmission.