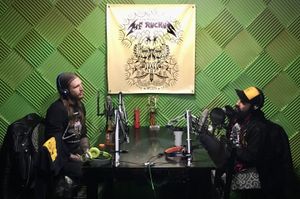 Greetings MFCKRS!                  
Welcome to Episode #084 of The MF Podcast! 
Reed Bruemmer (aka Reed Wolf) is the frontman for Overdose, Poison Rites and the legendary Speedwolf! He is also a contributor to Kerrang and the founder of Splattered Records. We also done came up together. Very stoked to have him on the show! 
Thanks so much for listening! Be sure to rate, review, subscribe! To learn more about other projects and to help us make cool stuff, please visit http://www.patreon.com/mfruckus.          
The MF Podcast is recorded at The Nug Nation studios, Denver CO - thenugnation.com 
Recording Engineer/Co-Producer: Gordon Leadfoot 
Editor/Co-Producer: Gene Skibbons 
Hosts: Aaron Howell, Tony Lee, Logan O'Connor and Ty Blosser 
This podcast is made possible thanks to the support of The Nug Nation, Evergroove Studio, RocketSpace, Flipside Music, Matula Plumbing, Mutiny Information Cafe and our badass Patrons. 
The MF Podcast is a Mutiny Transmission.